NEW

Menopause Stage Indicator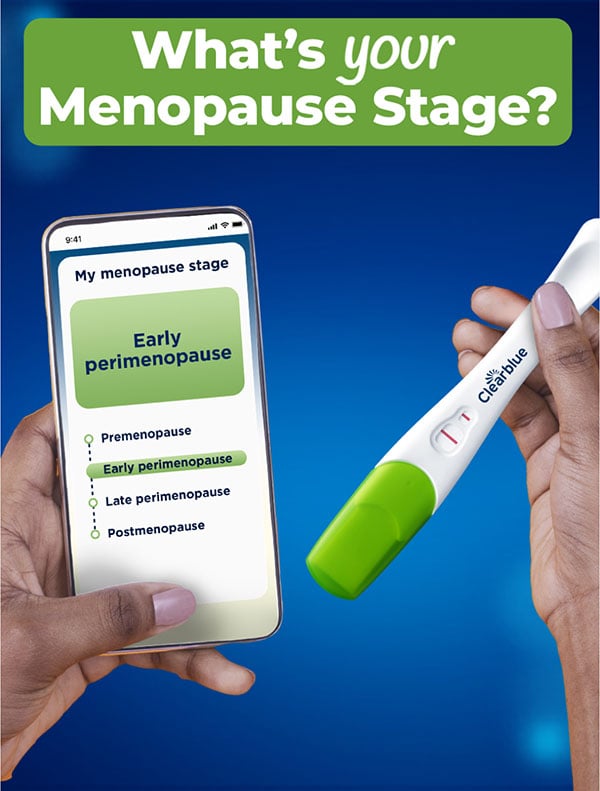 Clearblue® Menopause Stage Indicator provides an indication of your menopause stage1, so the more you learn about your stage, the better prepared you can be.
Helps you understand your menopause journey
The average age of menopause is 51 years but perimenopause can start many years before and symptoms can overlap with those of other health issues, which can leave you feeling confused and wondering if what you're feeling is the start of the menopause journey, or perhaps something else.
Key features and benefits

Tracks FSH over several days
Though variable day-to-day, the hormone, FSH (follicle stimulating hormone) rises as you get closer to menopause, so tracking over several days indicates whether your overall level is 'low', 'high' or 'variable'.

Free App
Clearblue® Menopause Stage Indicator uses 5 simple-to-use urine tests to track this key hormone over several days and combines the results with your personal cycle information and age in a FREE app.2

Smart Algorithm
The Smart Algorithm in the app uses your test results and personal data to calculate your likely menopause stage1:
Premenopause, Early perimenopause, Late perimenopause, Postmenopause
More features
Easy testing routine

in-app step-by-step guide
get smart reminders and an in-app countdown timer option
Log your daily symptoms

log and track up to 19 symptoms
identify patterns in frequency and intensity
Unlock your likely menopause stage

after logging 5 FSH tests your likely stage will be revealed
Personalized health report

generate a personalized report you can share with your healthcare professional
includes your likely menopause stage, how your stage was determined, FSH results, and tracked symptoms
Access relevant educational content

learn more about the menopause journey
Buy now
The more you learn about your stage, the better prepared you can be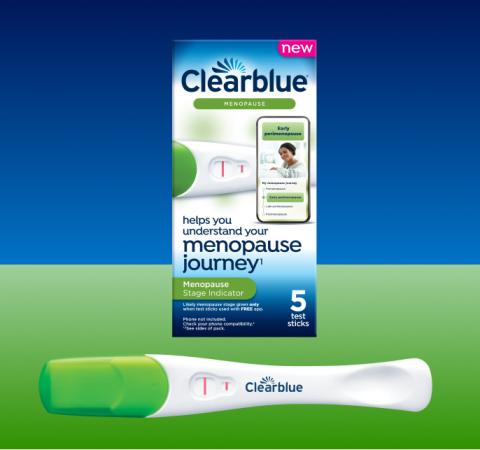 FAQ about the menopause
Why is 'Menopause' not a stage given by the product?
While some people refer to being 'in menopause', this can be quite confusing as sometimes they can mean the time leading up to their last period (i.e., the 'perimenopause') or other times they can mean after they haven't had a period in over a year (i.e., 'postmenopause').
On top, 'menopause' actually only refers to the day marking 12 months since your final period. This means menopause technically only lasts for a single day between the late perimenopause and postmenopause stages. Clearblue® Menopause Stage Indicator is designed to help you understand your menopause journey, by providing you more information about the stage you are likely to be in1:
Premenopause
Early perimenopause
Late perimenopause
Postmenopause
When can I test?
There are no special 'rules' on when to start testing – you can start at any time in your cycle, but there are a few things you need to remember:
Always use the first urine of the day as that's when hormones are most concentrated
You need to test 5 times on alternate days, so make sure you pick a time to start testing that's convenient for you, and don't forget you can get reminders of test days via the app!
If you are testing during your period, it's best to avoid testing on days when you're bleeding heavily
How do I know if the app will work on my phone?
The app is compatible with the latest Operating System (OS) on AndroidTM and iPhone® and one previous.
To find out if your phone is compatible, check out: www.clearblue.com/connectivity-clearblue-mobile-apps.

You can download the app for free prior to purchase of the test sticks to further check if your phone is compatible.
Try the symptom tracker and explore our great educational content about the menopause journey while you're there!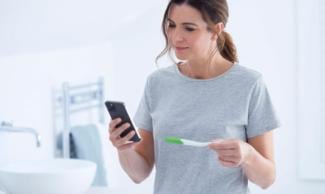 Is Clearblue® Menopause Stage Indicator right for me?
Take our simple quiz to find out if Clearblue® Menopause Stage Indicator is suitable for you
Only a healthcare professional can confirm your menopause stage.
Compatible with most iPhones® and Android™ Phones. To find out if your phone is compatible and if the app is available in the country you live in, check out: www.clearblue.com/connectivity